When you buy a Gifts from the Heart card, you are helping to give back health and dignity to women suffering from obstetric fistula and other childbirth injuries.
Mirroring the Hamlin Model of Care, our Gifts from the Heart recognizes the importance of holistic care. Give the gift of surgery, vocational training, post-surgery physiotherapy, or simply the joy and confidence that comes with a new dress and nightgown to wear during their hospital stay.
Every card is tax-deductible with 100% of the proceeds supporting our work. And you can use the cards for any festive occasion: birthdays, Christmas, anniversaries, or other special days you want to celebrate with a gift that gives back.
How it works:
Select your card. Each individual gift represents a means of changing a woman's life through life-changing treatment, care, and new opportunity.
Know that your purchase will help us achieve our goal: to end fistula in Ethiopia. Forever.
Featured gifts
The Gift of Nutrition: help us provide nutritious food to a woman during her stay at Hamlin Fistula Ethiopia, to speed her recovery after surgery.
The Gift of Midwifery Care: ensure a woman living in a rural area of Ethiopia has access to midwifery care by a Hamlin-trained midwife.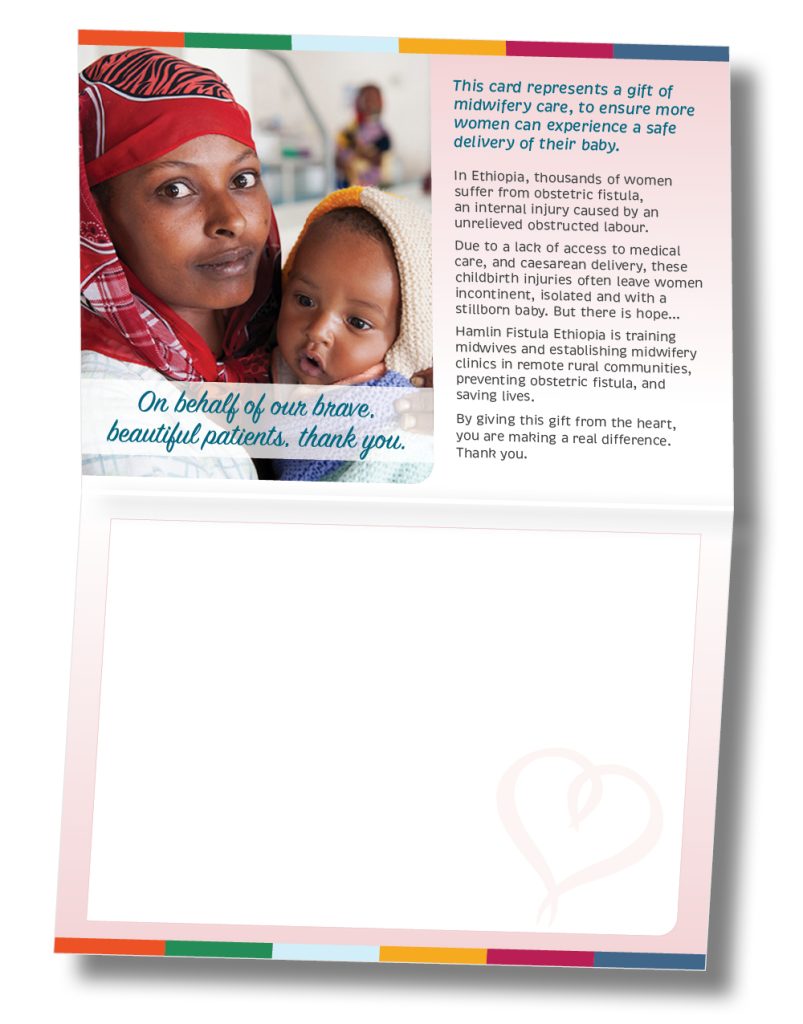 Give a gift that lasts
Hamlin Fistula Ethiopia offers free surgery, rehabilitation, and reintegration support to all women in Ethiopia, who would otherwise be unable to afford it.
Your Gift from the Heart card helps us continue this life-saving work. Buy a card from as little as $20, and give a gift that lasts a lifetime.
Browse the full range of Gifts from the Heart cards today.